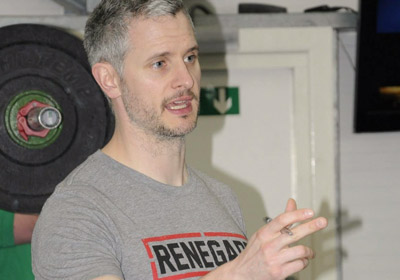 I have been involved in sports since the age of 14, competing in track and field for Andover athletics until my early 20's. I transferred my love of sports to my career and have been a Personal Trainer for over 13 years. I was introduced to CrossFit in 2009 by Gareth Millings (owner of AFS CrossFit, Andover) and instantly connected with the ethos and training methodology.
As I got more involved I became more and more aware of the positive impact it was capable of having and the community it created. In 2012 I opened Sarum CrossFit and am overwhelmed everyday by the achievements, dedication and support of our members.
My biggest passion is our community, I see people come together everyday from different backgrounds, with different goals and different motivations but they all unite to support one another in their achievements and that's what inspires me every day.
CrossFit Level 2 Trainer

CrossFit Powerlifting Coach

CrossFit Kids Coach

CrossFit Gymnastics Coach

Crossfit Level 1 Trainer

BWLA (British Weightlifting) L1 + L2 Club Coach

Eleiko Olympic Lifting L1 Club Coach

Level 3 Personal Trainer

Level 3 Sports Massage Therapist

KB Extreme Instructor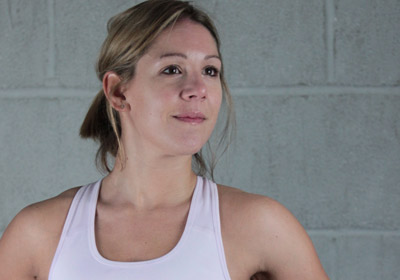 I've always had an interest in fitness and was told about CrossFit in late 2011, I was hooked on the concept but didn't get to try it out until August 2012. I've been doing CrossFit ever since and have never looked back. The changes I've experienced mentally and physically are huge, add to that the amazing atmosphere that CrossFit creates and I couldn't go back to training any other way.
Crossfit has made me want to not only pursue my own development in weightlifting, gymnastics, fitness (the list goes on!) but educate and pass on my ever growing strength and conditioning knowledge to other people through coaching.

CrossFit Level 1 Trainer

Level 1 fitness instructor

Indoor cycling instructor

CrossFit Kids Coach

Level 3 Personal Trainer
I first discovered CrossFit at Sarum CrossFit in 2012 with my sister Alex Taylor. From then on in I was hooked. At first this was the perfect supplement for my competitive hockey training allowing me to become faster, stronger and just overall fitter to make me the best possible athlete I could be on the field. Playing at county level during school, British Colleges at college and for a National League level throughout my years at University I have banked over 10 years competing at the top level, giving me access to an elite level of coaching on the pitch and in the gym with strength and conditioning coaches.
Recently hockey has taken a back seat and the qualities I have developed over many years I know apply within CrossFit. I previously qualified and competed at the European Championships and it gave me the bug… the bug to be the best that I can be in that moment and try to better myself each day.
While a rookie within the training industry itself, I obtained my PT & Sports Massage therapist qualification over 5 years ago now. I am constantly educating myself having recently completed my CrossFit Level 1 and am always reading up on the newest research to help better myself as an athlete which I can translate into teaching and programming techniques for clients.
You will find me training for many hours of the day putting my current knowledge and experience in to practice, trialling training techniques, workouts and skills that can be applied to classes and client programmes.
Bsc (Hons) Sport and Exercise Science

Level 3 Advanced Personal Trainer

Level 3 Sports Massage Therapist (Soft Tissue Therapy)

CrossFit Level 1 Trainer

Level 2 Fitness Instructor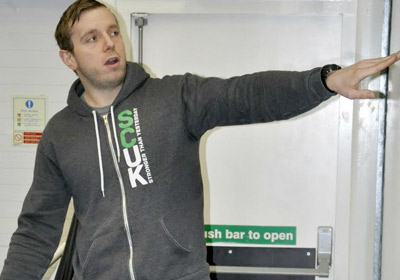 I first got into CrossFit after gaining some weight and getting bored of the traditional bodybuilding routines.
After seeing some videos on Youtube I decided to give it a go and had a crack at "Cindy"; 5 pull ups, 10 press ups and 15 air squats. I did it for 5 minutes and didn't do massively well so I decided to sign up and I have enjoyed every moment since.
I have been doing CrossFit for nearly 3 years and I have had my level 1 for nearly 2 years. I enjoy seeing others reach goals and achieve things they didn't think they could do on a daily basis and it is truly inspiring.
CrossFit Level 2 Trainer

REPS Level 2 Gym Instructor

Rock Tape Born to Move Level 1

CrossFit Mobility

CrossFit Gymnastics

Level 3 Personal Trainer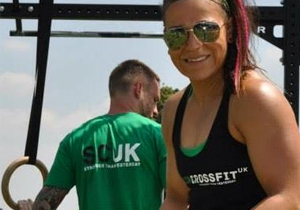 My 15 years professional experience within the fitness industry brings a wide range of skills to the Sarum Crossfit team. Currently teaching our in-house Sarum Yoga & Sarum Transformers fat loss courses & co-directing our SarumKidz CrossFit programme, I have applied my extensive knowledge & experience to create our CrossFit specific programmes exclusive to SCUK.
I first found CrossFit here at Sarum completing our 1st ever OnRamp course back in 2012. From here my love for the sport grew & grew leading to my first competition & participating in workshops with national gymnasts and world class athlete Sam Briggs. Last year my CrossFit journey was put on hold with the birth of my second child Austin. Since then my focus has been rehab, retraining and regaining my pre baby strength. I've already signed up for my first post baby comp and cannot wait to come-back 'stronger than yesterday'.
NASM Performance Enhancement Specialist

Level 3 PT – REPS Advanced level 3 instructor

L2 Holistic Nutrition & Lifestyle Coach

Level 3 PT – REPS Advanced level 3 instructor

L2 Physical activity & instruction to Children (aged 2-18yrs)

Fitness Pilates & Yoga Instructor

CrossFit Level 1 Trainer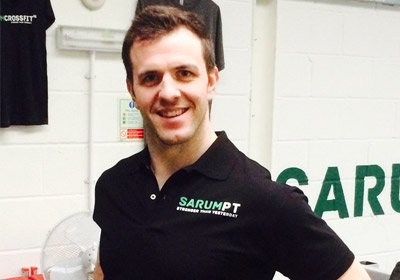 I have over 10 years in the fitness industry a have been a competitive athlete for 15years. Playing Rugby Union I have 200caps for Salisbury 1st XV and represented Dorset and Wilts at both senior and junior level.
I'm constantly educating myself in the complexities of the human body to deliver my clients the results they aim to achieve. A strength and conditioning coach and nutritional specialist I deliver results in performance, weightloss and rehabilitation.
New to crossfit, my first introduction was 2 year anniversary at SCUK 12 WODS in 12 hours – I am pleased to have survived!!
Bsc Sports Science and Sports Psychology

National Academy of Sports Medicine – Performance Enhancement Specialist

NASM – Corrective Exercise Specialist

Poliquin International Certification Program – Level 1 & 2

Biosignature Practitioner

Bulgarian Bag Coach

CrossFit Level 1 Trainer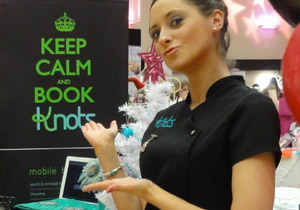 Knots Therapy is a beauty and massage therapy service delivered by Dawn Mounty.
From Sports Massage to a relaxing facial, nail treatments to waxing and threading and much more, with 14 years experience in the beauty & spa and sports & rehabilitation industry, Dawn has the knowledge and expertise to deliver a variety of first class therapies from a brand new treatment room based at Sarum CrossFit.
With leading brands such as Weleda natural skin and body care, CND Shellac and Vinylux, and Jane Iredale make up, Dawn prides herself on using the very best products to compliment her excellent standard of treatments.
For more information or to book, contact Dawn on:
07789 363344
dawn@knotstherapy.com
www.knotstherapy.com